JDarkRoom
A simple full-screen text editor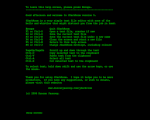 News



23rd June 2010 - Version 15-beta

JDarkRoom version 15-beta has been

released

- please give it a try.




23rd June 2010 - Website
JDarkRoom has now had over 200,000 hits and over 75,000 downloads.





Community:

JDarkRoom has now been downloaded by thousands of people. See some of our

JDarkRoom sightings

.


[ news archive ]
About JDarkRoom
JDarkRoom is a
popular
, simple full-screen text file editor with none of the usual bells and whistles that might distract you from the job in hand. If you are writing a speech, novel, essay, thesis or just need to be able to concentrate on your writing, then JDarkRoom may help you.
I have released JDarkRoom under the umbrella of
CodeAlchemists
. Please
donate
if you find this software useful - it encourages me to add features and fix
bugs
.
The development of JDarkRoom was heavily inspired by
DarkRoom
, an implementation of
WriteRoom
(which is a Mac-only application) for Windows, but DarkRoom requires the Microsoft .NET framework. I decided to create my own implementation
in Java
for those that prefer not to use .NET.
Features
Change your colour preferences, font and font size - via the settings screen (F6)
JDarkRoom remembers the file that you were working on last time
Support for central-european character sets
JDarkRoom notifies you if you might have forgotten to save your changes
Word/line/character count (Ctrl-L)
Specify a file on the command-line for JDarkRoom to open it at startup
Text antialiasing (where possible)
Mouse-wheel scrolling
Adjustable margins to fit any screen resolution (F9 to reset)
Auto-save backups - so you never lose your work again
Text search (F7 / Ctrl-F)
A command-reminder strip can be displayed at the bottom of the screen
Export to HTML using Markdown
Goal feature - displays number of words required to reach a specific goal
Inherit indentation
Convert tabs to spaces
Insert timestamp feature - with configurable timestamp format
'No Delete' mode
'Typewriter scrolling' mode (experimental)
A choice of file encodings (default: UTF-8)
Screenshots
Donations
JDarkRoom is supported entirely by the adverts you see on the right and by donations. Please consider donating, even 5 €/$/£ helps.
Paypal handles the secure transaction (so we never see your financial details).

(paypal account not required)


Alternatively, we now accept Bitcoin donations:

Donate Bitcoins
Download